Co-founder in 2009 of the concept store The Webster in Miami, this fashion enthusiast has since opened several stores in the United States. Bright and cheerful, it symbolizes French elegance.
Where did you get the idea, crazy at the time, to open a concept-store devoted to fashion in Miami?
I knew the world of fashion well for having worked as merchandiser in prestigious houses such as Balenciaga or Saint Laurent. one day I discovered Miami, on the occasion of Art Basel. And I fell in love with this city: its beach, its sun, its Art Deco architecture. There was a special atmosphere. We felt that something was happening. Art Basel attracted collectors from around the world. But when I looked in Bal Harbor a little sophisticated outfit for the evening, I did not find anything. There were no brands I liked. I thought there was a lack and I started in this new life.
How did your debut go?
I went around the French designers to convince them that Miami was not this old and slightly rude city they had in mind, but a dynamic place, bright future. A bit like Art Basel for contemporary art, I tried to bring in the big names. After a first temporary shop, I opened The Webster in a South Beach Pink and Blue Art Building in 2009. The name came from an old 1930s hotel that was sitting there.
What is the concept you have developed?
I wanted to combine a classic fashion, symbol of chic Parisianism, with the Miami environment, sunny, latin, "fun". Break the usual codes of elegance by a warm and joyful twist; while respecting deeply the DNA of the houses that I knew well. And I created a very strong identity. I choose not only the assortment of brands that I present, but the precise models that correspond to me.
At the same time, I wanted to invent a different way of shopping. the idea is that we feel in our shops like at home. By privileging the reception, the notions of comfort, relaxation. The furniture is a mix of vintage and contemporary. In our concept-stores, as in our clothes, we must feel good.
For ten years, you have multiplied openings. Will you continue this expansion?
After South Beachwe opened in Bal Harbor to place ourselves in a very competitive environment. Then there was New York, Orange County California, Houston Texas; And by the end of 2019, we should be dying a new shop in Los Angeles.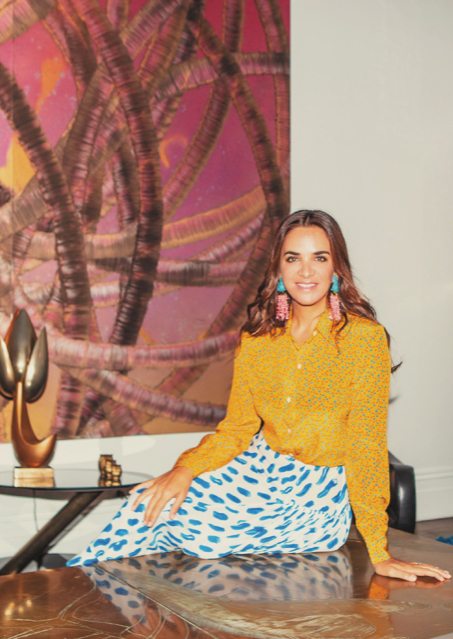 Do you stay true to fashion, but extend your activities to other areas of the art of living?
Yes. In New York, we have just partnered with David Mallet to launch a hair salon in Soho flagship store. And faced with the growing demand of some customers, we created a home department with the designer Stéphane Parmentier. He makes for us furniture, lamps, table services.
What are the criteria that guide your choices?
I am my instinct. Attentive to the evolution of fashion, design, I remain very faithful to the brands that I represent. I'm not so hooked on what lasts one season. I like to create real relationships, stable and lasting. Our customers enjoy being in a familiar, reassuring world. And they are sure to find with us parts that they want to wear for a long time.
Do you prefer black or color?
The colour ! In printed form. Pink is a little my favorite hue. There is also blue, chocolate, a little walleye. Everything that gives an impression of holidays, travel, ease and freedom.
You belong to a family famous in the world of cognac. Did your family history influence you?
A lot. I learned to be down to earth and the importance of rooting. The vine, spirits gain value over time. This is an essential notion in a world where we sometimes want things to go quickly.
What is being French in New York or Miami?
A blend of naturalness and sophistication. Sometimes, when I came back from the beach wet hair, not makeup and flat sandals, they looked at me strangely. I had to fancy myself a bit.
Your definition of elegance?
Feel good. If one simply dresses to be fashionable, one will not be elegant. What matters is the balance between what you wear and what you are.
By Bertrand de Saint Vincent. Camilo Rios pictures
Do not hesitate to us contact to know more !