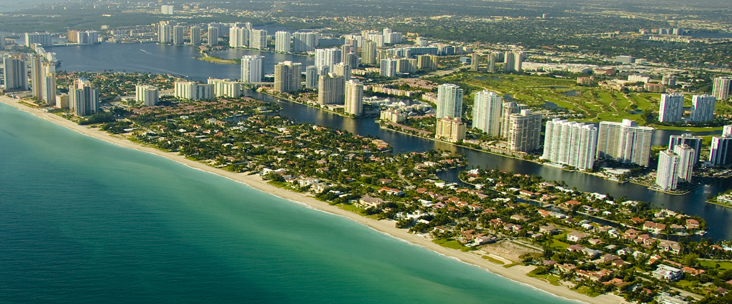 The Upper East Side is the small neighborhood separating the dynamic Wynwood from peaceful North Miami. The place is known for its antagonisms. Between city and suburbs, classic architecture blends with the modernity of the new buildings and chic boutiques abound with residents with very casual looks.
The MiMo Historic District, a portion of Biscayne Boulevard, features a unique collection of colorful, whimsical buildings painted in response to the sad post-war architecture.
Classic and modern, residential and chic: Upper East Side cultivates its contradictions.
There are three very pleasant communities to live in:
Bay Point, with 250 homes, an inland lake, an island and access to the Bay, is one of the oldest private communities in Miami, where you can only return by invitation. For a long time, the "Miami best kept secret of Miami" because nobody knew what was hidden behind these big white walls. This small paradise in the city center, has been the object of a speculation noticed since the prices of the houses has sometimes more than tripled in 2 or 3 years.
Morningside, which adjoins Bay Point, is guarded but not private. The alleys are wide, the vegetation is superb and lush, and there is a charming architectural ensemble with houses from the 1930s, an example of the architecture -50 and even MIMO of the 60s. Part of the estate is also classified and protected. On the edge of the bay, a public park offers tennis and sports fields.
A bit higher, Belle Meade is also kept but not private. The French had a crush on this very green and relaxed area and many of them bought a house on the water while the prices were much milder than in Miami Beach. Belle Meade takes advantage of neighborhood transformation MIMO where the old decommissioned motels are gradually transformed into a charming hotel, as if we were revisiting the American films of the 1960s. Under the impulse of some aficionados of that time, including the enterprising Avra Jain, the buildings dedicated to the destruction come alive and tell a forgotten story of Miami.