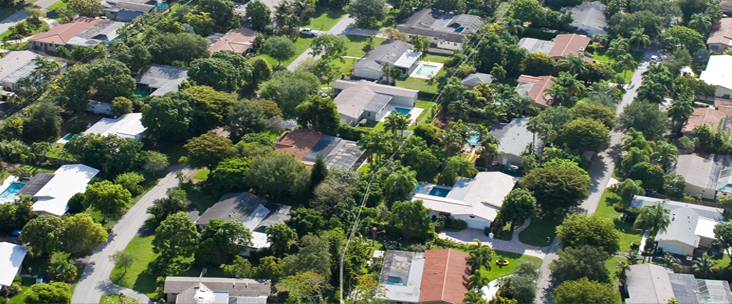 South Miami, as Pinecrest were at the origin of the areas reserved for the farms. In the 1990s, divisions (sometimes complicated to follow) were created to transform them into municipalities of human size and easier to manage. Today, for lovers of wide open spaces, tranquility, family-oriented sports with good surrounding schools, Pinecrest and South Miami offer a good quality of life. Here, one can afford a tennis court in its gardens and the proximity of green parks such as Matheson, Fairchild Tropical Gardens, Pinecrest Gardens, Deering Estates that make this area the ideal place for families and nature lovers . During the week-end, children criss-cross the cycle paths and practice many sports or educational activities within the competitive teams of the many schools around.
For primary school, Pinecrest has a sought-after public school. Then the public system offers schools Palmetto Middle and Palmetto high school. The first primary campus of the Franco-American school of Miami EFAM is in this same district, just like ISPA, an international public high school including a bilingual French-English curriculum. Gulliver's private school offers an International Baccalaureate program (IB). The Lycées Epiphany, Westminster, Palmer Trinity (private religious schools) located in this district are also widely known.
The village of Pinecrest, with less than 20,000 inhabitants, is also known for its safety since the police conduct rounds around the clock on a fairly small perimeter. The houses are bigger, more modern and luxurious, the last buildings having benefited from an affordable land.
Here, we live with a car, to take advantage also of the gigantic malls: The Falls in the south, has more than 100 signs, cinemas and department stores. Dadeland and Sunset offer many options to shoppers.
The Sunset district is also popular with the French because of the proximity of Sunset Elementary School (multiple French, English, Spanish, German programs) and EFAM. Today Pinecrest and South Miami offer an undeniable quality of life thanks to its many good surrounding schools, large parks and sports facilities, open spaces, greenery and tranquility. Around Sunset, has developed a small heart of the city with restaurants, entertainment, and independent shops.