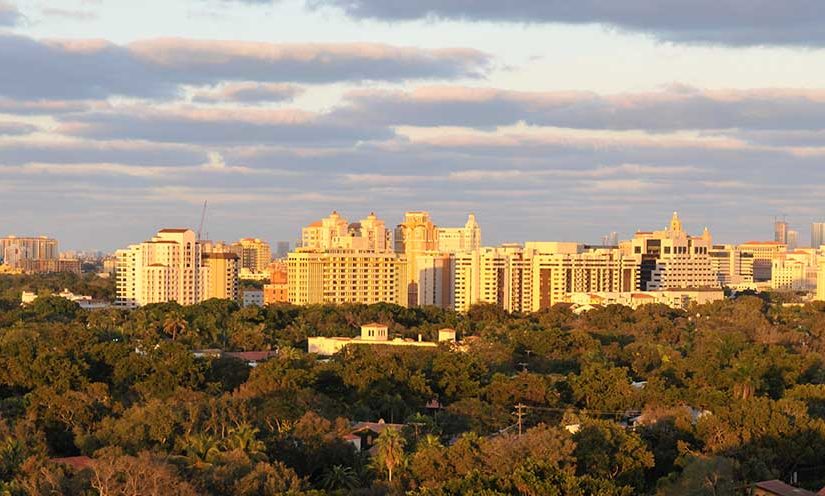 Southwest of downtown Miami is Coral Gables. The so called "the city beautiful" is a historic district of Miami. Coral Gables, which celebrated its 90th anniversary in April 2015, is a municipality in its own right, whose predominantly Mediterranean architecture is protected. It is not possible to repaint a house or renovate it without having obtained the necessary authorizations. This explains the impeccable holding of the city and its harmony, appreciated by a very international population.
We owe the quality of this unique Florida town planning to its founder George Merrick. In the 1920s, the developer had imagined and organized what has become one of the first planned cities in the United States. He drew the arteries so that they are not grids, taking inspiration from the squares, roundabouts and avenues of old Europe and especially of Spain and Italy. Beautiful bridges as well as golf and tennis courses have completed the city that has not lost its charm and elegance over the years.
The beautiful mansions, symbols of the golden age of the 30s, the vast open and perfectly kept gardens and the shaded streets by a unique set of gigantic banyans, oaks and palms surround the Miracle Mile business center and a small downtown consisting of restaurants, shops and art galleries. More than 150 international companies have chosen to head to Coral Gables, including the famous Bacardi group, the Baptist Hospital, the HBO Latin America television group, and the Richemont group's Caribbean Latin America subsidiary. Coral Gables is popular with golfers especially for the famous Biltmore Course, which extends around the renowned hotel.
It's also a very central area to be close to schools public offering bilingual programs. The high school Coral Gables High offers an "International Baccalaureate" (IB program). ISCH (International Studies Charter High School), the only high school offering French BAC, is located a few minutes north of Coral Gables. The University of Miami (UM) has set up its campus south of the city. It includes a medical school, a school of architecture and a school of communication, all three reputed.