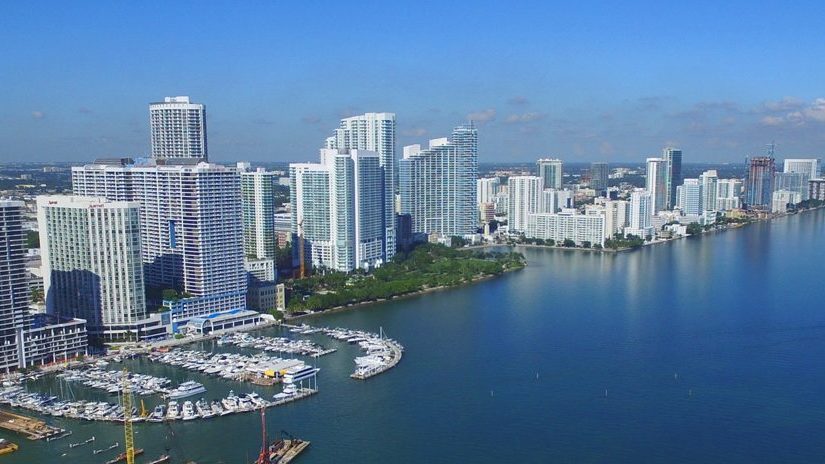 If it is a symbol of the deep transformation of Miami for 10 years, it is the Edgewater district, between Downtown Miami and the Julia Tuttle Causeway.
Long neglected neighborhood, Edgewater, as its name suggests, stretches along the bay, in the city center. The buildings offer a succession of panoramic views of Biscayne Bay and Miami Beach. Residents who are lucky enough to benefit from an apartment with a view never tire of the ballet of the sun in the sky and of the colors that vary throughout the day. However, at the foot of the buildings, life resumes its rights and the district is full of offices, shops and restaurants.
The very first buildings in this district grew in the 2000s: the New Wave and the Onyx, feet in the water, led the way, followed by the Paramount, inaugurated in 2011, which was the first luxury condo Edgewater, aligning with luxury services in other districts (notably Brickell and South Pointe). During the crisis, the developers understood the extraordinary potential of this place and bought one by one the disparate small houses. Since 2012, new programs have followed one another and offer unequaled investment opportunities in the United States. The first condos of the new Edgewater generation were inaugurated in 2015: Icon Bay, Bay House, Crimson and Biscayne Beach. Now it's the turn of the superb Paraiso set imagined and developed by the powerful Related group. Paraiso Bay, One Paraiso, Paraiso Bay Views and Gran Paraiso, 4 slender towers in a superbly arranged area comprising a restaurant by the bay, swimming pools, tennis courts, etc.
Still in the transition phase, the district will have a new face in the next 2 years, and will benefit from a unique project of floating promenade on the seafront going from north to south.