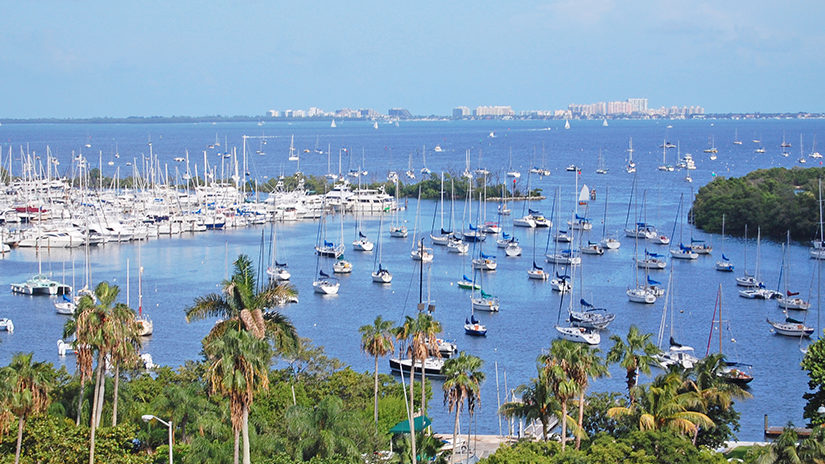 Just south of Brickell's skyscrapers, Coconut Grove is a charming neighborhood with an unusual history. The first homes and schools date back to the 19th century, making it one of the oldest neighborhoods in Miami. Then the place called "the Grove" became the refuge of hippies and Flower Power in the 60s. From that time, there are only a few lively and colorful bars.
Today, this neighborhood is a way of life on its own. The cafes and restaurants all have outdoor terraces, reinforcing the 'village' spirit. The dense and lush vegetation hides a patchwork of sometimes historic houses and Floridian properties of the 1950s, not to mention the new houses of architecture could not be more modern. In a few streets, one passes from vast mansions to ostentatious luxury on the edge of the bay to the wooden houses of the Bahamian quarter.
Along Bayshore Drive, offices alternate with a few luxurious buildings, including the latest state-of-the-art Grove at Grand Bay towers that offer breathtaking views of the grand marina of Coconut and its bay.
Coconut Grove is also home to private and closed communities, such as Cloisters, Hermitage, Anchorage, Moorings, Abitare or Camp Biscayne to name but a few. These are very rarely on sale.
Coconut Grove is a paradise for walking, cycling, sailing (the best nautical clubs have established their neighborhoods), Volleyball ... Boat lovers will appreciate the presence of the coast with direct access to Biscayne Bay , without bridge. For breaks and weekends, residents can be found at the good tables of Main Highway, Commodore Plaza or Cocowalk. The festivals and the famous organic market are the rendezvous of the "grovites" who, most of the time, never leave the Grove after having chosen it!
The district is still in full development, particularly because of the success of schools nestled in the heart of this dream setting. In the private, Ransom Everglades and Carrollton each have two prestigious campuses for high school and high school. Only Carrollton, Catholic Institute for Young Girls, offers an "International Baccalaureate" (IB) program. Coconut Grove Elementary is a public elementary school with a bilingual French program. Always in the audience, Carver, for the college years, offers a Magnet program also bilingual French.