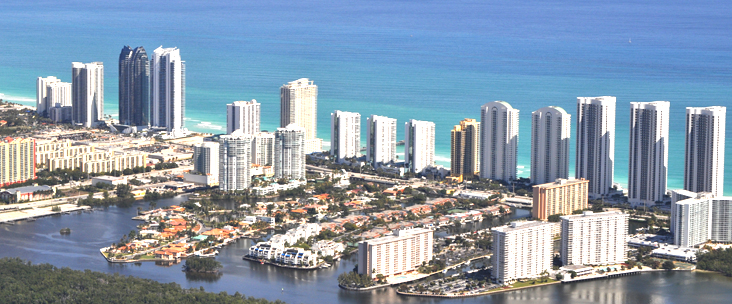 Just 30 minutes north of South Beach, Sunny Isles has developed a real estate market dominated by high-rise skyscrapers with breathtaking views of the ocean or bay, also known as the intracoastal. The atmosphere is very cosmopolitan and the clientele is largely made up of wealthy international investors and their families.
Sunny Isles has been the focus of major developers across the country who have discovered the potential of these spectacular views to endless beaches on the ocean side, or on the sunset and the bay. Several new luxury residences have been delivered in the last 5 years and the neighborhood continues its momentum with residences ultra luxury even elitist. This is where Dezer builds the now famous Porsche Tower, which includes a Porsche for buyers who can get their cars up the elevator to get to their entrance. Armani Residences, Jade Signature or Jade Ocean are all symbols of the new architecture of Miami, where the big names of design agree to leave their mark. All offer endless views of the ocean, as well as private beaches, hence the exclusivity of most of these projects.
These last years are synonymous with renewal and expansion for Sunny Isles, as for Aventura on the other side of the bay, which becomes a point of reference in the United States for luxury "highrise". The proximity of the ocean and the beach also makes Sunny Isles a paradise where to spend peaceful moments under the Florida sun.